What is YouthBuild?
Youthbuild is a program designed to help those without a high school degree obtain their GED all while learning useful skills that will benefit them their whole lives!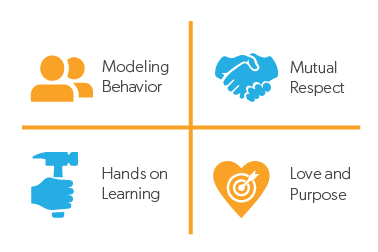 So much more than a simple GED program, Youthbuild utilizes the Mokingbird Education Method, which combines Adult Basic Education (Mathematics, Critical Thinking Skills, Technology & Literacy) alongside Workforce Preparation and Workforce Development.
As one of 276 YouthBuild programs operating in the United States, the mission of the program is to help transform the lives of young people through training, community service, and sustainable wage jobs.
Interested in Applying? Click here to fill out our form and get more information!
When you join our YouthBuild family you gain a support system to last you a lifetime. SEAT provides:
Project Based Education

Small Class Sizes

College Credits

Hands-On Experience

College & Career Coaching

Industry-Recognized Credentials

Earn a Living Allowance/Stipend
Leadership Opportunities

Professional Mentoring

Internships

College Preparation

Job Placement Services

Scholarships/Awards Towards College
Am I Eligible to Apply to YouthBuild Schenectady?
MUST BE A RESIDENT OF SCHENECTADY OR AMSTERDAM

MUST MEET INCOME GUIDELINES

MUST NOT HAVE GRADUATED HIGH SCHOOL*
Attend an Information Session

Bring in all required paperwork*

Complete a Test of Basic Education

Complete an Individual Interview
First Year College Support

Graduate Placement and Retention Support

Trade Union Apprenticeships
An AmeriCorps Site Learn and Serve Projects in the Capital Region Disaster Relief/First Responder
At YouthBuild Schenectady, we believe that young people want to give back to their community, they just need the opportunity and the support.
In YouthBuild, we believe in investing in the community that is investing in us. We do this through completing over 16,000 community service hours annually.
As AmeriCorps members, YouthBuild students who complete their service hours receive an Education Award that can be used towards college or training.
A MOCKINGBIRD OPPORTUNITY LEARNING PROGRAM: COMBINES ADULT BASIC EDUCATION, WORKFORCE PREPARATION & WORKFORCE DEVELOPMENT
Health & Human Service Training Partnership
We believe it is part of our core mission to not only prepare young people for entry-level jobs, but to provide the academic rigor and classroom environment to create life-long learners who are better equipped for the challenges of college and advanced training.
That is why YouthBuild Schenectady has undergone a major initiative to redevelop our curriculum to create a college preparatory environment and to align to common core and college entrance requirements. The education model at YouthBuild Schenectady is a unique "Learn by Doing' model that incorporates authentic learning through project based, contextualized lessons.
What does this mean? Instead of teaching English, Math, Social Studies, and Science separately, YouthBuild Schenectady teaches these subjects in a blended format in the context of a real world problem that has been identified by local high demand, high growth employers.
Construction Trades Certifications
OSHA 10, Lead RRP, NCCER Core Construction Competencies, Building Performance Institute (BPI) Professional Certifications
PERFORMING GUT REHABILITATIONS ON HOMES IN THE CAPITAL REGION LAND BANK PROJECT
At YouthBuild Schenectady we believe the there a powerful metaphor of rehabilitating your own life while you are physically rehabilitating a dilapidated house in the City of Schenectady.
As our young people undergo personal transformation, they are also transforming a boarded up, unwanted structure to become a beautiful home for a loving family.
One of our core values at YouthBuild Schenectady is preserving the environment and ensuring that we are building safe, long lasting, sustainable homes. YouthBuild Schenectady demonstrates this commitment through our building practices of repurposing materials, selecting products that have less environmental impact, improving air quality, and ensuring that our homes achieve maximum energy efficiency standards through Energy Star and Leadership in Energy Education and Design (LEED) designations.
We partner with several organizations including the Partnership of St. Gobain and Partnership with United States Green Building Council (USGBC) to build LEED Certified Affordable Homes.
A YOUTH-ELECTED POLICY COMMITTEE PROFESSIONAL AND COMMUNITY MENTORING INTERNSHIPS COLLEGE TRANSITION PROGRAMMING
YouthBuild defines leadership as making sure things go right for yourself, your family, and your community.
We believe that everyone is a leader and that to be a leader you don't have to be the loudest person in the room or the one with the most ideas, but you demonstrate leadership by taking personal responsibility over our own lives and decisions.
We don't let things happen to us, we make things happen for us!